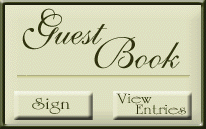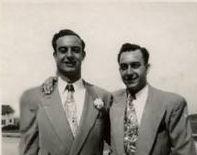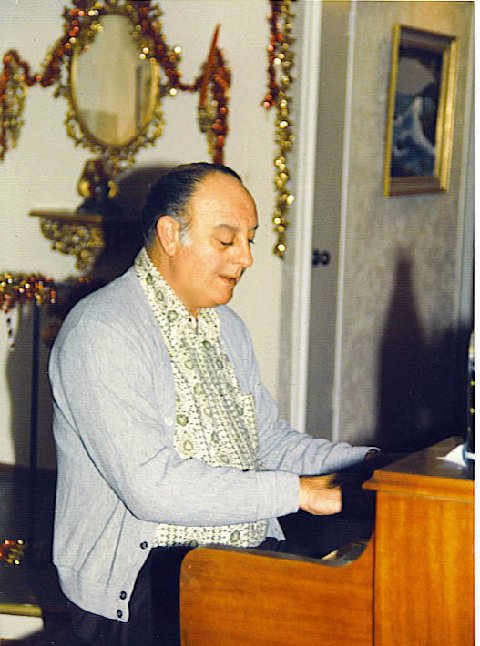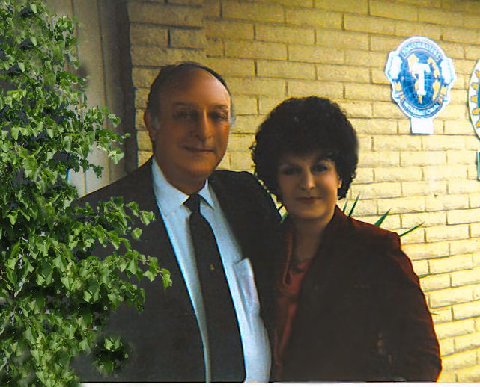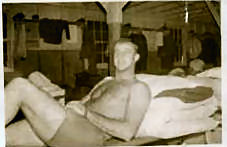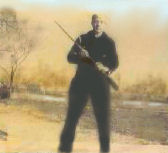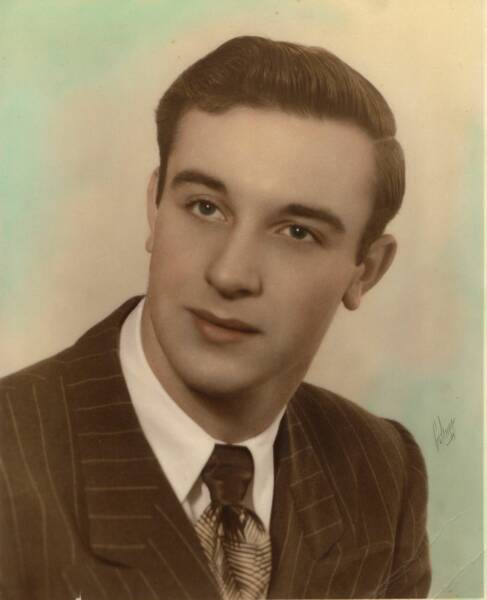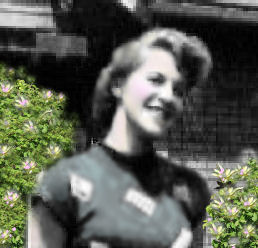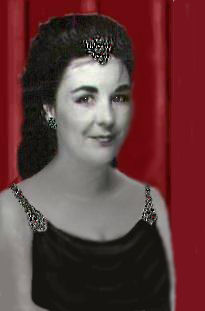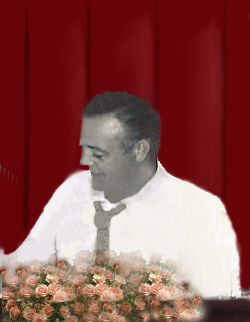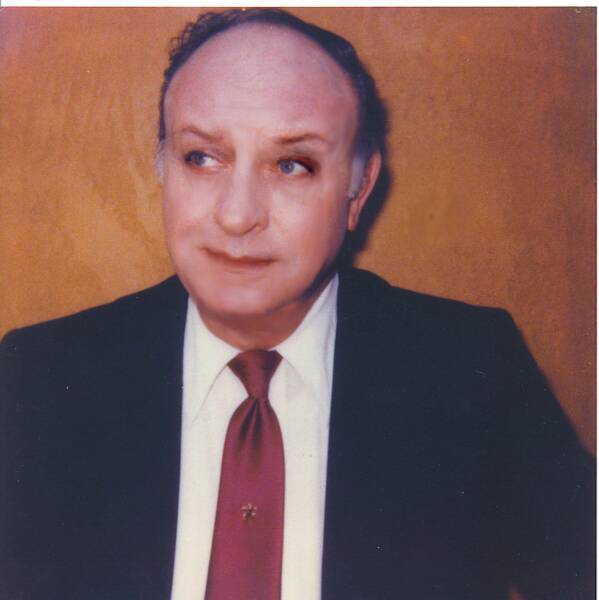 Vaughn, Young Hunting Days

Vaughn @ Dolores Home - 1986

Vaughn Marschand   10/24/1931 - 8/12/1989

Each person has a memory of someone who has walked through their lives and left a lasting impression. Vaughn was such a complex person that there are many stories that could be told by perhaps hundreds if not thousands of people as he traversed the United States during his years of entertaining. He played in some of the finest clubs and dinner houses in San Francisco, Hawaii and Alaska as well as small gigs in small towns of the midwest, Montana and Wyoming and California. He sometimes walked into a place that had a piano, sat down and played for an hour, then simply told the owner he wanted a job. Although he belonged to the union, he often went out and got his own jobs if they didn't have something availale.  He was born into a poor and struggling Fort Wayne, Indiana family with mixed siblings of a prior marriage.

Vaughn spent a couple years in the Air Force and then hurried back to his piano and the "Night Life", a song he often played.

The following are my memories and my way of paying tribute to his talent and the introspective man I knew.

I first met Vaughn in or around January 1963 or 64. He was playing in a club in Sacramento, CA, when friends insisted I come listen to the new piano player. I had recently left my first husband for the final time, knowing I would never go back and really wasn't in the mood for entertainment, but reluctantly went along.  He stared at me when we walked in  (I don't know if he thought he had seen me before or I reminded him of someone else) and came directly to our table at  his next break. I learned he was having difficulty in his first marriage, was separated and expected it to end in divorce.

At every break he was back and I found we had much in common. He was born in Ft Wayne, IN and I was born in Tulsa, OK. Both are fair sized cities in parts of the country that only someone born and at least partially raised can relate to. It's a totally different way of life than either coast.  I noticeed from that first conversation that he lacked the sentimentality of home that I had and seemed to have no desire to go back.

Through the weeks I  listened to him as he impersonated many famous singers and pianist's styles and he was good at all. While he liked to play a lot of country music, I loved the semi-classics such as "Stardust" and "Twilight Time. I  liked the soft sounds of the "Ink Spots" and "Platters."  I found he could listen to a song and sit right down and copy it almost to perfection on the first try. I learned that he had played the trumpet with a small group in Indiana, but no longer had his horn. He found out I played the piano, but played for churches and weddings, with a totally different style but he insisted that I sit at his break time and play. The customers seemed to enjoy our diversity, so we did this quite often.

I don't know what he said to the bartenders, but there was a standing order that if  and when I stopped by, the seat to his left would be vacated for me. As soon as I entered the room he would start playing "Hello Dolly" and everyone would know I had just entered the room.

Now for some comical tales. We both loved the rain and made a pact that we would meet at a certain place when the first rain came (California doesn't as a rule get rain in the summer). That first rain came in the middle of night in early fall and when I awoke to the patter, I turned to go back to sleep but remembered the pact.  I thought surely he wouldn't get up and go, but being a woman of my word, I went and there he was. I'm surprised the police weren't called because we laughed, danced and sang "Just walking In The Rain" for at least twenty minutes, then sat and talked for another hour before we each went home. When we were together we laughed all the time and really had good times, but I was well aware that Vaughn drank too much and the so called "groupies" were abundant. Not my style at all!

Another crazy time I went with him to audition at a Sacramento club in the downtown area. It was summer and over a hundred degrees. From our parking space it was quite a distance to the club and we spied the big fountain/pool at the same time. Now picture this; I'm in high heels that are killing me and dressed to impress and he was in a nice suit with tie, etc.  I jerked off my heels and stood in the cool water and watched as he removed his shoes, rolled his pants and joined me. People walking by either grinned or laughed with us. yes we went to the audition and Vaughn accepted a contract.

My boys were just at an age to be mischevious so when Vaughn came over and we had a fun barbecue and night of music, he retired to the guest bedroom and we listened to him snore loud enough to "raise the roof." The boys got their

new recorder and proceeded to tape him. The next morning without telling Vaughn what they had done, they asked him to listen to their recording. Vaughn looked puzzled, then asked what in the world is it, it sounds like a herd of angry sheep (whatever that sounds like). When he found out what it was, he showed his good sense of humor because he laughed right along with everyone and he never forgot the incident. Shortly before his death he recalled the incident with a chuckle.

We often sat and talked about God and mysteries of life. We both loved the unexplained and strange events and so we spent many hours exploring mysteries and God's plan in life through the centuries. Although he said he never went to church he had an amazing amount of knowledge from the Bible for someone who had never studied. I had led bible studies and held various positions in the church much of my life.

Vaughn also lacked patience in some instances such as when he was playing and someone at the piano bar would start talking to someone. He could erupt and waste no time in telling them to leave if they didn't want to listen.

He was also very sensitive and loyal to friends.  Music was his world and I sometimes I thought it bordered on obsession making a name for himself. He seemed to me to be running from himself or his previous life.

He also didn't like competition or sharing the limelight with other piano players or to join in combo's, etc. It seemed like he HAD to prove himself...................

Chukar's and Pool

Vaughn was a man's man as well as being chased by women (and reciprocating). He enjoyed getting a group together and taking off to favored chukar grounds for a few days camping. An old coffee pot over a campfire with eggs and bacon in a worn out skillet was a major treat. Now build a camp fire, put on a pot of beans in a cast iron skillet along with a dutch oven of biscuits and he was in "hog heaven". He would talk of that camping trip for days if not weeks and month's and dirty old balnkets, grit in his shoes and no shave was all a part of it. (Nope, I never went along!)  When playing piano you would never guess he liked to rough it because white shirts (of course a tie) freshly creased slacks, manicured hands  with expensive aftershave left no hint of the country.

Pool was something he enjoyed playing while making small wagers. He may not have been the best, but he won his share and most of those bets were for drinks.  I learned many members of his family had been alcoholic's and it wasn't unusual for someone to be called to come pick up his dad at a local bar where he would be zonked out. I was afraid he was headed in the same direction.

Back to the music...................................................

Vaughn was self-taught and played by ear, but from the boy who left the farm vowing never to look back, had developed his talent to such a degree that people came night after night to hear him. As I mentioned earlier  he would ask me to play some new song that was becoming popular (he would buy me the sheet music as I mostly had to read what I played) and after listening a few times he could and would have it down pat. He could and did emulate many of the singers of the day to an incredible degree. When Vaughn left home he was very thin according to pictures, but when I met him he had put on considerable weight and would have been described as "sort of hefty."

Religious Side...........................................

One day Vaughn sat staring into space and I asked him what he was thinking and he replied "I believe there is a God, but I wish I knew more about Him! We then again went through why I believed God did NOT cause the problems of the world, but gave man a free choice and we had to make the path that was right.

Through The Years...................

Some time after his divorce was final, he asked me; "if we married, was there someone who could care for the boys so I could travel with him" and I sadly answered no. There was something else I didn't want to tell him and as a matter of fact told few people. I had Multiple Sclerosis and it would only be a matter of time before I had another attack. I had various unexplained symptoms that had no difinitive diagnosis until I woke one morning paralyzed on one side and unable to breathe. I ended up in the intensive care unit of a hospital in Los Angeles, in an iron lung. Finally a diagnosis was made!  Although I had recovered and speech was now normal, doctors had advised that I would probably have many attacks during my lifetime and the disease was unpredictable. I couldn't face at sometime in the future being handicapped. My medical career and pro-dancing was almost over. I had no idea if I would return to ballroom competition and I couldn't talk about it. I managed to get by with no one knowing for another year and then the attacks began again and I disappeared from Vaughn's life.

Lets just say we kept in touch through the years until the mid eighties when he again phoned and said he was very ill and had just gotten out of the hospital with pneumonia. He was separated from his second wife and had been playing small clubs or what ever he could find in Reno, Nevada and asked if he could stay with me for a while; of course he could! I was shocked when I saw him because not only did he look ill, he was stooped and had aged a lot.  He slowly recovered over the next few month's and began getting small jobs in and out of the area.

We talked and talked and talked! He felt his life had been ruined due to the "Night Life".

Through the next few months he lived in various nearby towns where he was able to find work and we kept in close touch.

Then on my birthday just a short time before he died he came to see me and talked about "just being tired" and how could he talk to God? I explained all he had to do was talk to him as a friend with sincerity and he would be heard. He cried as he told me he had ruined his life and wished he could go back to 1964 and start over.

Then one day  shortly thereafter, I got a call that he was in the hospital and couldn't be wakened from a deep sleep. He had had another heart attack and suffering from alcohol withdrawals in the intensive care unit. I was told his last words were "GET Dolores." I'll never know what he wanted to say! When I rushed to his bedside, I called his name and said I was there, he responded only with an eye flicker and that was it. He died the following day and I was heartbroken.

The Funeral..........................

His wife and daughter came from Idaho and made arrangements. She had a gentleman with her (friend, relative, I don't know) so I never had a chance to speak with her and perhaps she didn't want to know me. I had bought a large boquet of red silk roses (24  roses) with fern/greenery, and a gentleman connected to the funeral service placed them at the foot of his coffin and then the service began. I was horrified when I saw the flower arrangement fall over. The florist had arranged them in what I considered a very beautiful and stable holder. The gentleman sat them up and the service continued. The flowers fell again. The gentleman looked at the base and shrugged his shoulder because he saw nothing wrong and placed them firmly at the foot again. Shortly thereafter the roses fell for the third time and they were left on their side for the rest of the service.  When the service was over several people went to gather the flowers and in particular the roses that kept falling. But I reached them first and explained "I brought them and I'm taking them home with me."  When I got home they were placed in a beautiful silver vase atop my piano where they remain today.

SINCE THEN......................................

I have met the lovely lady (Martha) who had Vaughn's first child, ( a boy, Terry), who was given up for adoption at birth and she is now reunited with the child she gave up under pressure from her family. I am so happy for her and such a sweet and gracious lady she is.

Vaughn had a daughter Vonna, by his second wife, Lee,  so he left two children.

In closing, I think of Vaughn almost daily and treasure the few personal things he gave me. No monetary value, but they were sentimental to him. I'm sorry he never attained the goal he coveted, but believe he is in a wonderful place at peace and happiness. Today I am totally disabled by MS, but wanted to leave a brief dedication to my friend of many years (1963- 1989) (I believe it was 1963, but could have been '64). He was many things to many people, and a contradiction to himself, but a good hearted, warm and loyal friend!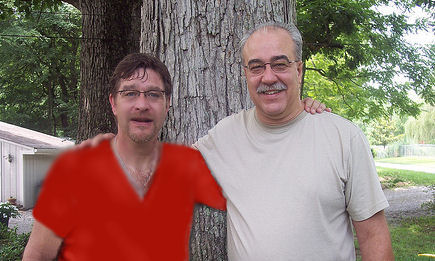 Terry and Nephew, Kerry Marschand

You searched for Vaughn Marschand      SSDI

All California Death Index, 1940-1997 Results

This record has been added to your shoebox.

California Death Index, 1940-1997

Name: Vaughn Roger Marschand

Social Security #:  (I removed due to identity thefts)

Sex: MALE 

Birth Date: 24 Oct 1931

Birthplace: Indiana 

Death Date: 12 Aug 1989

Death Place:  Santa Rosa - Sonoma  County, CA